Published Date: Sep 18th, 2023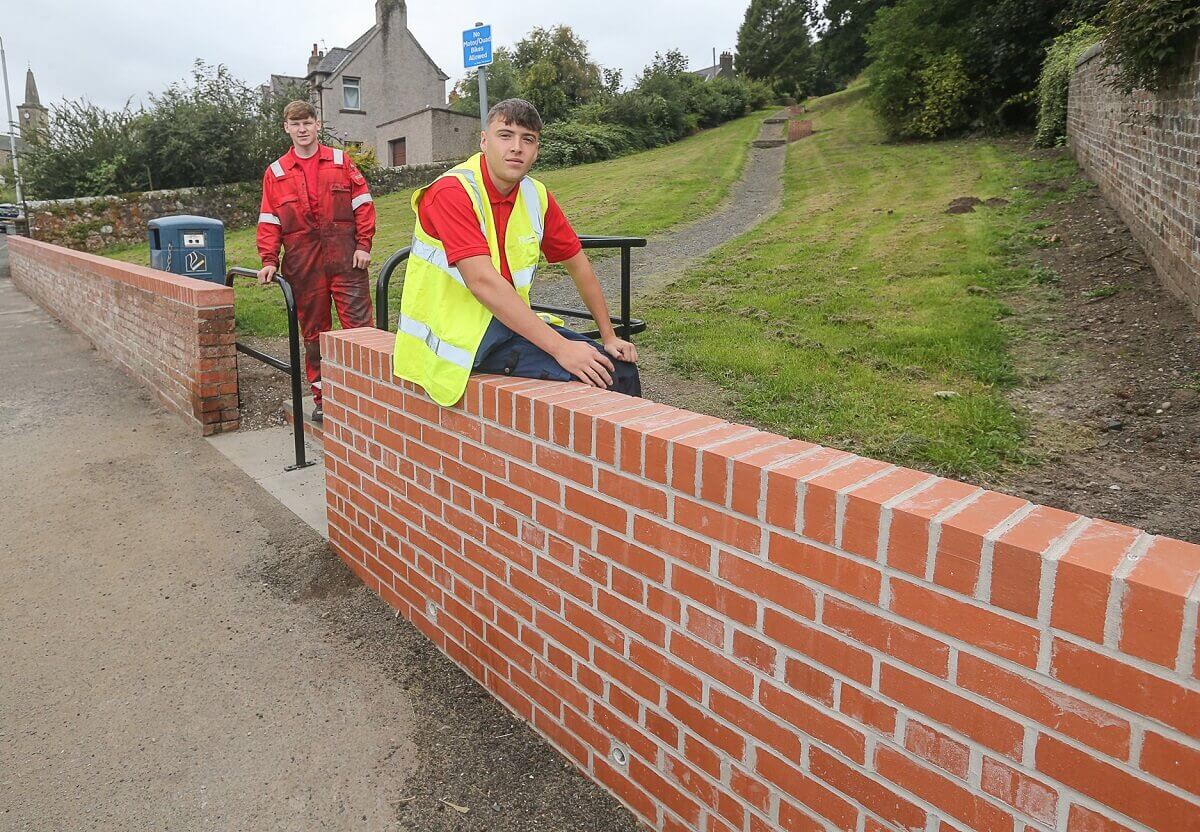 Two Fife Council Building Services apprentices have completed remediation works on a wall in Northall Road, Markinch, following complaints from the community that the structure had become an eyesore.
Apprentice fabricator/welder Kyle Keddie from Coaltown of Wemyss, and apprentice bricklayer Harvey Ross from Glenrothes, have both just begun their 3rd year of the Environmental and Building services apprenticeship. The apprenticeship takes 4 years to complete.
The scheme currently takes on approximately 25-30 apprentices every year across a variety of trades.
Councillor Judy Hamilton, Fife Council spokesperson for Building and Housing Services said:
"I am pleased to congratulate Harvey and Kyle on their excellent progress through the apprenticeship programme.
"This piece of work is very important and visible to the community. It has already received positive comments from members of the Markinch community and this is a great way to provide our apprentices with a valuable opportunity to showcase their skills.
"The Council currently has over 120 apprentices across a variety of trades and jobs - and I am proud that even in these difficult times, we remain committed to our Apprenticeship Programme and developing a skilled workforce for the future."
Convener of Glenrothes Area Committee, Councillor Craig Walker said:
"These individuals have already demonstrated a high-level of commitment and skill throughout their apprenticeship, and this is reflected in the quality of work they have produced.
"The work at Northall Road in Markinch was a perfect opportunity for these two apprentices to show off their talent.
"I am sure they will continue to produce a high standard of work and continue to learn and develop their skills over the course of their apprenticeship."
Since 1996, the Council's Building Services have trained over 700 apprentices and demand for positions is always competitive. Apprentices can train in several professions including joiners, electricians, bricklayers, plasterers, painters, plumbers and gas technicians.
The Apprenticeship Programme is highly sought-after and many applications are received. Applicants come through a rigorous process of skills tests and interviews before a final 25 are selected. Applications for the Trade Apprenticeships open in February and the successful applicants usually begin their apprenticeship in August.
To find out more about apprenticeships at Fife Council, visit Opportunities Fife or email employability@fife.gov.uk